Summer Skincare Tips: How to Keep Your Skin Healthy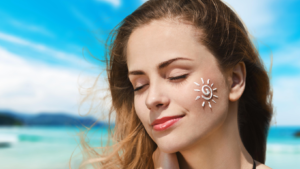 The sun is shining, the temperatures are rising, and it's finally summertime. Want to make sure your skin stays healthy and safe this season? Check out these summer skincare tips. We've covered you, from protecting yourself from the sun to keeping your skin hydrated. So put on some sunscreen, slap on a hat, and enjoy the summer sunshine!
Always Wear Sunscreen:
It's no secret that spending time in the sun can be harmful to your skin. Ultraviolet (UV) rays from the sun can cause skin damage, including premature aging and skin cancer. That's why it's important to protect your skin by wearing sunscreen every time you go outside.
There are two kinds of UV rays: UVA and UVB. Both types can damage your skin, but UVB rays are the primary reason for sunburn. UVA rays can also cause damage, but they get absorbed in the skin more deeply and are associated with premature aging and skin cancer.
Fortunately, there is an easy way to protect yourself from these risks: by wearing sunscreen. A good sunscreen will block out harmful UV rays, helping to keep your skin safe and healthy. So next time you head outdoors, don't forget to put on some sunscreen.
How to Choose Sunscreen?
When it comes to sunscreen, there are a few things to keep in mind to ensure you're getting the best possible protection. First, pay attention to the SPF, or sun protection factor. This number indicates how long the sunscreen will protect you from UVB rays, which are the main cause of sunburn.
A higher SPF means more protection, so if you're going to be spending a lot of time in the sun, it's worth choosing a sunscreen with an SPF of 30 or higher. In addition, be sure to look for a sunscreen that is labeled "broad-spectrum," as this means it will also provide protection from UVA rays, which can cause skin damage and premature aging.
With so many options on the market, choosing the right sunscreen can seem daunting. However, by keeping these simple tips in mind, you can be sure to find sunscreen that will keep you safe and healthy all summer long.
Differences Between SPFs
SPF, or sun protection factor, measures a sunscreen's ability to protect your skin from the sun's ultraviolet (UV) rays. The higher the SPF, the greater the protection. SPF is most commonly expressed as a number followed by the letters "SPF."
For example, an SPF 30 sunscreen filters out about 93% of incoming UVB rays, while an SPF 50+ sunscreen filters out about 97%. However, it's important to remember that no sunscreen can filter out 100% of UV rays, so it's still important to take other precautions when spending time in the sun.
Wearing protective clothing, seeking shade, and avoiding peak sun hours are all good ways to reduce your risk of sun exposure. However, when choosing sunscreen, it's also important to consider the type of UV rays you'll be exposed to.
UVA rays cause premature aging and wrinkles, while UVB rays cause sunburns. A broad-spectrum sunscreen will protect you from both types of radiation.
Stay Hydrated
We all know that we need to drink plenty of water to stay healthy, but did you know that staying hydrated is also essential for keeping your skin healthy and safe in the sun? That's right – when you're out in the sun, your body needs even more water to help keep your skin cool and prevent sunburn.
So, how much water should you drink when you're spending time in the sun? Experts recommend drinking at least eight ounces of water every half hour and even more if you're sweating heavily.
And be sure to avoid sugary drinks and alcoholic beverages, which can actually contribute to dehydration. By keeping yourself well-hydrated, you'll not only feel better, but you'll also be doing your skin a favor. So next time you head out into the sun, make sure to bring along a water bottle – your skin will thank you for it.
Top Recommended Sunscreens in the Market
There are a lot of summer sunscreens in the market, and it can be tough to narrow down the best ones. However, there are a few that stand out from the rest. Take a look below at our carefully selected sunscreens that you can get your hands on from CelestaPro.
Aurora Glow Sun Base
Aurora Glow Sun Base is a unique product that offers SPF50+ protection while also evening out the skin tone and providing a pearl extract to give the skin a healthy glow. The main ingredients, niacinamide and lavender flower extract, provide superior sun protection while also brightening the skin. The result is a product that provides great sun protection and leaves the skin looking radiant and healthy.
Ultra Lightening Sunscreen 
Looking for a sunscreen that won't weigh you down or leave your skin feeling greasy? Introducing the lightest sunscreen yet – ultra lightening sunscreen with SPF38+. This unique formula is designed to improve skin tone, protect from sun damage, and give you a natural glow.
The main components – trehalose and EGF repair factor – work together to help repair and prevent sun damage while also providing excellent coverage. And, because it doesn't stain the skin, you can wear it worry-free.
Whether you are headed to the beach or just taking a walk around the block, this ultra-lightening sunscreen is perfect for any activity where you want to enjoy the sun without worrying about harmful UV rays.
White Summer Sun Cream 
Looking for a sun cream that offers strong protection against UV rays without being too heavy or sticky? Then check out this white sun cream. This SPF50+ formula is ideal for all skin types, and its mild ingredients help reduce skin stresses.
Plus, it protects against UV rays without stickiness. The main ingredients are Glutathione, Centella Asiatica Extract, Niacinamide, and Adenosine. So, if you're looking for a high-quality sun cream that won't weigh you down, the white sun cream is perfect for you.
In a Nutshell:
As the weather gets warmer and you start to enjoy spending time outside, it's important to remember to take care of your skin. The sun can be damaging in the short term and in the long term, so it's crucial to protect yourself from its harmful rays.
Be sure to stay hydrated and apply sunscreen to protect your skin. The products mentioned above are sure to make your skin look healthy, young, and fresh. Moreover, they will give you enough shield against the dangerous UV rays. So, why wait? Order away your sunscreen today and enjoy bathing in the sun.
In the pursuit of a sculpted and toned body, many individuals turn to various methods of fat reduction. One such …