Saxenda: A Breakthrough Weight Loss Solution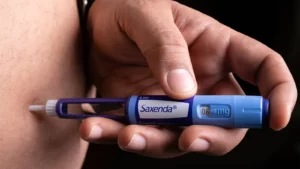 In the quest for achieving and maintaining a healthy weight, many individuals face challenges that diet and exercise alone can't seem to conquer. Fortunately, there are innovative solutions available, and one such breakthrough in weight management is Saxenda. In this article, we will explore this product, its mechanisms, benefits, and how it can assist you on your weight loss journey.
What is Saxenda?
Saxenda is an FDA-approved prescription medication designed to aid in weight loss for individuals who struggle with obesity or overweight conditions. It is part of a class of drugs known as GLP-1 receptor agonists. Saxenda's active ingredient, liraglutide, mimics a naturally occurring hormone called GLP-1, which regulates appetite and food intake.
How Does Saxenda Work?
Saxenda works by targeting the hunger and fullness centers in the brain, helping to reduce appetite and food cravings. It also slows down the emptying of the stomach, which leads to increased feelings of fullness and satisfaction after meals. By modulating these physiological processes, this product assists individuals in consuming fewer calories, which can result in sustainable weight loss.
Benefits of product
Effective Weight Loss: Clinical studies have shown that Saxenda can help individuals achieve significant weight loss when combined with a reduced-calorie diet and increased physical activity.
Appetite Control: Saxenda's mechanism of action helps control hunger and reduce cravings, making it easier for individuals to stick to their weight loss plan.
Improved Health: Weight loss achieved with this product can lead to various health benefits, such as improved blood sugar control, reduced risk of heart disease, and enhanced overall well-being.
Convenience: This product is administered through a once-daily injection, making it a convenient option for those who may struggle with multiple doses or frequent medication management.
Long-Term Results: Saxenda can be used for an extended period, allowing individuals to maintain their weight loss and develop healthier habits over time.
Is Saxenda Right for You?
Saxenda is typically prescribed to individuals with a BMI (Body Mass Index) of 27 or higher who have at least one weight-related medical condition, or to those with a BMI of 30 or higher, regardless of medical conditions. It is essential to consult with a healthcare provider to determine if this product is a suitable option for your weight loss journey. Your healthcare provider will assess your individual needs, goals, and potential risks.
Conclusion
This product represents a significant advancement in the field of weight management. It offers an effective, safe, and convenient way to support your weight loss efforts. When combined with a healthy lifestyle, Saxenda can help you shed those extra pounds and improve your overall health and well-being.
If you're struggling with weight loss and looking for a solution that works, consult with a healthcare provider to see if Saxenda is the right choice for you. Take the first step towards a healthier, happier you with Saxenda.