Neuramis: A Breakthrough in Dermal Fillers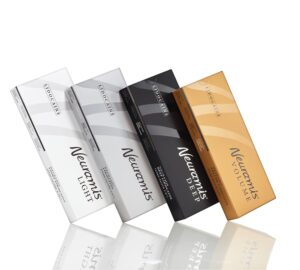 In the realm of non-surgical cosmetic procedures, Neuramis stands as a true game-changer. This innovative dermal filler has been making waves in the world of aesthetics, offering individuals a non-invasive way to achieve youthful, rejuvenated skin. In this article, we'll delve into what this filler is, its unique benefits, and why it's gaining such popularity in the world of beauty and skincare.
What Is Neuramis?
Neuramis is a hyaluronic acid-based dermal filler designed to address a variety of cosmetic concerns, primarily those associated with facial aging. Hyaluronic acid, a naturally occurring substance in the skin, is renowned for its ability to retain moisture and provide a plumping effect. This filler harnesses this power to enhance and rejuvenate the skin's appearance.
Benefits of Neuramis:
Smooths Wrinkles and Fine Lines: Neuramis effectively fills in wrinkles and fine lines, leaving the skin looking smoother and more youthful.
Restores Facial Volume: It replenishes lost volume in areas like the cheeks, temples, and lips, helping to recreate a youthful facial contour.
Natural-Looking Results: Neuramis provides natural-looking results, enhancing your appearance without an overly "done" look.
Long-Lasting Effects: Results can last anywhere from 6 to 18 months, depending on the specific product used and individual factors.
Quick Procedure: Neuramis treatments are typically quick, often taking less than an hour, making it a convenient option for those with busy schedules.
Applications of Neuramis:
Neuramis can be used for a variety of cosmetic purposes, including:
Wrinkle Reduction: It's excellent for smoothing out wrinkles on the forehead, around the eyes (crow's feet), and between the eyebrows (frown lines).
Lip Enhancement: Filler can be used to enhance lip volume and shape, providing fuller and more defined lips.
Cheek Augmentation: It can add volume to the cheeks, restoring a youthful plumpness.
Nasolabial Folds: Neuramis is effective in reducing the appearance of deep lines that run from the sides of the nose to the corners of the mouth.
Facial Contouring: Neuramis is also used for non-surgical jawline and chin contouring.
Why Choose Neuramis?
One of the standout features of this filler is its versatility. It can be used for various facial areas, providing tailored solutions for individual needs. Furthermore, its hyaluronic acid-based formula is known for its compatibility with the skin, reducing the risk of adverse reactions.
Neuramis treatments are typically well-tolerated, with minimal downtime. Most people can resume their regular activities shortly after the procedure, making it a convenient choice for those seeking quick and effective results without surgery.
In conclusion, Neuramis has earned its place as a leading dermal filler in the world of non-surgical facial rejuvenation. Its ability to deliver natural-looking results, versatility in addressing multiple cosmetic concerns, and long-lasting effects have made it a popular choice among individuals looking to enhance their appearance. If you're considering a non-invasive approach to achieving youthful, radiant skin, Neuramis could be the solution you've been searching for. Consult with a qualified aesthetic provider to determine if Neuramis is right for you and start your journey toward a more confident, rejuvenated you.
In the pursuit of a sculpted and toned body, many individuals turn to various methods of fat reduction. One such …