Mesotherapy vs. Microneedling: Understanding the Differences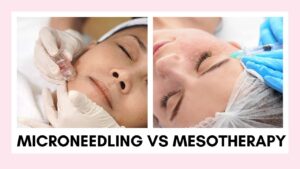 In the ever-evolving world of skincare, there are numerous treatments designed to help you achieve healthier, more youthful skin. Two popular options are mesotherapy and microneedling. While they both offer impressive results, these treatments differ in their approaches and what they can address. In this article, we'll explore the distinctions between mesotherapy and microneedling to help you make an informed decision about which one is best suited for your skincare goals.
Mesotherapy: Targeted Skin Nourishment
Mesotherapy is a non-invasive cosmetic procedure that involves the injection of a customized cocktail of vitamins, minerals, amino acids, and hyaluronic acid into the middle layer of the skin (the mesoderm). This mixture is specifically formulated to address various skin concerns, including:
Hydration: Mesotherapy provides deep hydration to the skin, promoting a healthy and radiant complexion.
Fine Lines and Wrinkles: It can help reduce the appearance of fine lines and wrinkles.
Skin Rejuvenation: Mesotherapy stimulates collagen and elastin production, promoting skin rejuvenation.
Hair Loss: It is also used for treating hair loss by stimulating hair follicles and promoting hair growth.
The procedure is typically well-tolerated and requires little to no downtime, making it a popular choice for those seeking skin improvement without invasive measures.
Microneedling: Collagen Induction Therapy
Microneedling, also known as collagen induction therapy, is a minimally invasive procedure that involves the use of a device equipped with fine needles to create micro-injuries in the skin's surface. These micro-injuries trigger the body's natural healing response, which includes the production of collagen and elastin. Microneedling is effective for addressing various skin concerns, such as:
Acne Scars: It can reduce the appearance of acne scars by promoting skin regeneration.
Fine Lines and Wrinkles: Microneedling helps diminish fine lines and wrinkles.
Uneven Skin Texture: It can improve the texture and tone of the skin.
Enlarged Pores: Microneedling can minimize the appearance of enlarged pores.
Stretch Marks: It is also used to treat stretch marks on the body.
After microneedling, you may experience some redness and minor swelling, but these side effects typically subside within a few days. The results are gradual and become more noticeable as collagen production continues over several weeks.
Choosing the Right Treatment: Mesotherapy or Microneedling
The choice between mesotherapy and microneedling depends on your specific skincare goals and concerns:
Choose Mesotherapy if:

You are looking for deep hydration and nourishment.
You want to address hair loss.
You prefer a quick, virtually painless treatment.

Choose Microneedling if:

You are targeting issues like acne scars or enlarged pores.
You desire overall skin rejuvenation and improved texture.
You are willing to wait for gradual, long-lasting results.
Conclusion
Both mesotherapy and microneedling offer effective solutions for achieving healthier, more youthful skin. By understanding the differences between these treatments and considering your specific skincare needs, you can make an informed decision about which one is the right choice for you. Whether you opt for mesotherapy's targeted nourishment or microneedling's collagen-boosting effects, taking the first step toward better skin is a decision you won't regret.
Enhance your beauty and confidence with the skincare treatment that suits you best!
In the pursuit of a sculpted and toned body, many individuals turn to various methods of fat reduction. One such …